e-conference (2)
In your view, how safe are the high-rise constructions going-on these days in Kathmandu Valley considering earthquake scenario?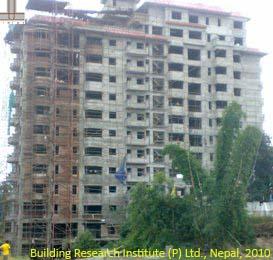 (A 12-Storeyed Reinforced Concrete (RC) Frame Structured Building Under-Construction)
Posted by BREINS Structural Care on 6-NOV-2010
Key Words : Ring of Fire, Plate Tectonics, Continental Plates, Convergent Plates Boundary, Divergent Plates Boundary, Transform Plates Boundary, Fault Planes, Seismic Codes, Seismic Coefficient Method, Soil Structure Interaction, Soil Amplification Effect, Site Specific Response Analysis, Liquefaction, Local Site Effect, Ductility Demand, Drift Limitations, Pounding Effect, Response Spectra Curves, Seismic Control Systems, Poor Construction Practices, Social and Legal Aspects in Construction
Excerpts :
"Kathmandu Valley is in highly vulnerable situation not only due to its geographical location across the globe and its geological conditions but also due to weaker structures built on it in our part.  Design and construction practices have not evolved as per the technological advancement and the building design codes adopted are also obsolete"
"Concerned government authorities have made it mandatory to submit the Structural Design Drawings of high‐rises for construction approval. But it is NOT mandatory to be designed by Structural Engineers. In such, public seem to be perplexed to hire the Structural Engineers where Civil Engineers are practicing such designs using simplistic codal approach neglecting the Local soil effect, Building Dynamics, Structural Ductility and many more factors those are essential for structural safety. Design prepared using such simplistic approach could be highly inaccurate hence unsafe in earthquakes"
"Critical structures as Hospitals, Telecommunication buildings, Government offices & other Community building structures should be designed so that it basically remains elastic; which could be reoccupied immediately. Immediate Occupancy should be its performance level. Only minor damages are allowed. Such structures couldn't offer damages as they need to remain operational even after major earthquake"
"WE must not forget that recent Chilean Earthquake of magnitude Mw 8.8 claimed about 800 human lives whereas Haitian earthquake Mw 7.0 claimed more than 200, 000 human lives. Of course this huge difference in casualties was due to the non‐engineered buildings in Haiti which could have been saved by the use of proper technology"
(Please download the following PDF file link for complete comment on the topic)

SAFETY-HIGH-RISE.PDF (1.01 MB)