e-conference (1)
Which high strength deformed steel rebar is better for RC construction ?
Tor Steel (Fe 415) or TMT(Fe 500)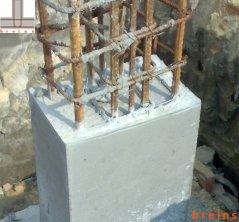 Posted by BREINS Structural Care Unit, BSCU, on 31-Mar-2009
Key Words : Cold Twisted Deformed Rebars, CTD, HYSD, High Strength Rebars, TMT Steel Rebars, TOR Steel Rebars, Deformed Rebars, Ductility, Ductility Demand, Ductility of Steel Rebars, Durability of Steel Rebars, Bendability of Steel Rebars, Weldability of Steel Rebars,Yield Strength,Yield Strain, Strain Hardening, Elongation Index, Fatigue Behavior
These days, high yield strength deformed (HYSD) TOR 415 & TMT 500 steel rebars are widely used in the construction of Reinforced Concrete (RC) structures. Following major parameters should be checked.....(Please download the following PDF file link for complete comment on the topic)
Posted by Er. Radha Krishna Mallik, on 31-Dec-2009

Remaining other parameters same, the steel which produce higher ductility and higher strength is preferable for use in RC construction. Fe 500 can produce higher strength so we can use it with increase in the size of structural member for additional ductility.

Improve ductility by managing the section and use Fe 500 for higher strength.