High Performance Concrete (HPC)
Concrete has renewed its definition from just being a mixture of cement, sand and aggregate along with water. It used to be so. Advancement in Concrete Technology has revolutionized this "mixture" of above mentioned various conventional ingredients in the fulfillment of several desired properties.
Concrete nowadays has become much more worker friendly, stronger & more durable; than ever before with various other desirable properties. Concrete with such advanced diversified properties is referred as High Performance (HPC). HPC signifies superior concrete performance during wet stage (mixing & placing process); with higher strength in hardened stage along with a greater durability in long-term with respect to Normal concrete.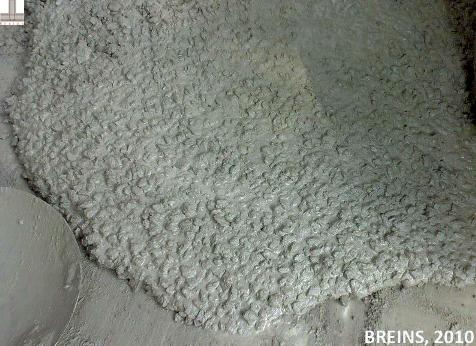 Fig-1 (High Performance Concrete, HPC at Site : Concrete of M50 grade with High degree of Flowability & Cohesiveness forming a thin Crust after pouring out from Mixer) / Courtesy : BREINS Material Care Unit, concrete@buildingresearch.com.np
Use of various chemical cum mineral admixtures, fibres along with more understanding on micro-structure of concrete & better understanding on properties of its constituent materials made this possible.

Because of its versatility in its properties along with recent developments, easy availability of constituent materials and economic viability; concrete has now become almost the universal material of construction.
Use of Admixtures
Admixtures refer to those materials in concrete, in addition to its basic constituents: Cement, Sand, Aggregate & Water; usually added during mixing process. Admixtures alter the concrete properties in various positive ways as;

Increase in Workability
Increase in Homogeneity & Cohesiveness
Increase in Strength
Increase in Durability
Increase or Decrease in Setting Time
Increase in Resistance against Freeze & Thaw action
Increase in Water Proofing Property
Increase in Corrosion Resistance of Steel
Increase in Soundness
Admixtures are mainly of two types;

Mineral Admixtures
Chemical Admixtures
Mineral Admixtures

Mineral Admixtures are materials with cementitious properties which can either be natural or artificial in origin. Mineral Admixtures are also called Pozzolanas. It is normally added in concrete during its dry /wet mixing process which is properly mixed with all other ingredients.

Pozzolanas themselves possess little or no cementitious value but when added in concrete mix react with calcium Hydroxide, Ca(OH)2, formed as a product of Hydration. Ca(OH)2, otherwise, is highly soluble in water may be leached out impairing durability of concrete by making concrete pervious and less dense. The product formed by the reaction of Pozzolana with Ca(OH)2 is cement-gel of superior quality which imparts extra strength to the concrete. Following Pozzolanic reaction takes place :

Pozzolanas + Ca(OH)2 + H2O —> C-S-H (Cement Gel)

Naturally available mineral admixtures are of volcanic in origin. Also, Clay & Shales, Opalinc Cherts, Diatomaceous Earth are some of its types. Artificial admixtures are mainly obtained from the power plants using coal or rice husk as fuel and metallurgical furnaces producing pig iron, steel, copper, nickel, lead, silicon and ferrosilicon alloys.

Artificial admixtures are therefore the Fly ash, Silica fume, Rice husk ash, Surkhi, Blast furnace slag, Metakaoline. Among them the industrial by-products : Fly Ash (FA), Ground Granulated Blast Furnace Slag (GGBS) and Condensed Silica Fume (CSF) are the major ones that are commomly used as mineral admixtures.

Also, finely divided materials as dust of normal weight aggregates, marbles, quartz, granite powder are the inert type of admixtures. These admixtures don't exhibit Pozzolanic property thereby no contribution to the strength of concrete and just act as inert filler.

Mineral admixtures can be added relatively in larger amount with some reductions in cement content too.
Portland Pozzolana Cement (PPC)
Pozzolanas are also added in cement as additives during its manufacture to produce Portland Pozzolana Cement (PPC). Usually Pulverized Fly Ash (PFA) is used as Pozzolanas in PPC. Such cement gain strength slowly during early days accompanied by lower heat of hydration. Higher strength in long-term to that of Ordinary Portland Cement (OPC) could be possible if enough moisture is available for its Pozzolanic action. The percentage of Pozzolanas in such cement varies from 10 to 30 %.

As stated earlier, Pozzolanic action consumes the calcium hydroxide in concrete thereby prevents the leaching action that takes place in presence of water impairing durability of structures. It provides higher resistance to the attack of aggressive waters.

PPC is particularly suitable in following construction types :

Marine Construction
Hydraulic Structure
Mass Concreting
Chemical Admixtures

Following are some examples of Chemical Admixtures:

Plasticizers / Water Reducers
Superplasticizers / High Range Water Reducers
Set Retarders
Accelerators
Air Entraining Agents
Plasticizers / Water Reducers

Plasticizers, also called Water Reducers, impart Plasticizing effect in wet concrete; are organic substances or combination of organic and inorganic substances. Basic constituents of Plasticizers are lignosulphonates, their derivatives; acid of hydroxylated carboxylic acids, their derivatives; and Carbohydrates. These are primarily used for their water reducing capacity; maintaining the desired workability of a concrete mix. In other words it has a property of enhancing workability at a given water-cement ratio in compare to concrete mix without Plasticizers.

Plasticizers indirectly add strength to hardened concrete by enhancing workability of a concrete mix during its mixing and placing thereby allowing reduction in water-cement (W/C) ratio. Reduction in water cement ratio increases the strength of concrete. Also, reduction in cement content for a given strength thereby decreasing in heat of hydration and cost saving is also possible by the use of Plasticizers.

Plasticizers are added in the amount of 0.1% to 0.5% by weight of cement. The reduction in water content for the given degree of workability is in the range of 5% to 15% by addition of these Plasticizers in above doses.

Plasticizers, from the above origin could also entrain air more than the acceptable limit while increasing workability that may result in decrease in strength. So only prescribed dosages should be used.
Superplasticizers / High Range Water Reducers

Superplasticizers are the improved chemical admixtures over Plasticizers with highly effective Plasticizing effects on wet concrete. Superplasticizers result in substantial enhancement in workability at a given water-cement ratio. For a constant workability, reduction of water content up to 30% may be achieved by the use of Superplasticizers. Superplasticizers can be used at the higher dosages than conventional Plasticizers in the range of 0.5% to 3% by weight of cement.

Superplasticizers are organic poly-electrolytes; that belong to the category of polymeric dispersants. Some of the Superplasticizers are synthetic while others are derived from natural products and can be classified into following categories:

Sulphonated Melamine Formaldehyde Condensate (SMF)
Sulphonated Napthalene Formaldehyde Condensate (SNF)
Modified Lignosulphonates (MLS)

All the above sulphonated polymer-based Superplasticizers were developed some three decades back. The main drawback of such Superplasticized concrete mixes is slump-loss. This can reduce or cancel the advantage of using these Superplasticizers particularly in hot weather, with long transportation times and reactive cements.
New Generation Superplasticizers
New generation Superplasticizers with a superior performance to that of conventional Plasticizers have been developed. Polycarboxylate Ether or simply Polycarboxylate (PC) based Superplasticizers that falls in this category perform better than the traditional Sulfonated polymers in terms of either higher reduction in the W/C at a given workability, or higher slump level at a given mixture composition and a lower slump loss.

Water reduction up to 40% has been possible with PC based Superplasticizers.