Cracks in Concrete Surface & its Ill Effect
Damages in the form of cracks are caused in concrete surface by various primary & secondary causes. Cracks formed by primary causes are referred to as structural damage and are more serious. It may be due to poor detailing, (Fig-2), insufficient amount of reinforcing steel, excessive deflection and others. Secondary causes of damage are due to inherent properties of concrete such as Shrinkage, Creep and other includes Temperature effect & Defective concreting works.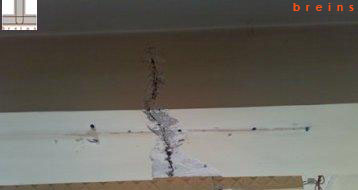 Fig-2 (Major structural crack in beam due to poor detailing practice)
Concrete surfaces are very much vulnerable to cracking both in Plastic stage, (Fig-3) Hardening stage and in Hardened concrete. Cracks could be developed at the concrete surfaces mainly due to Shrinkage, Temperature effect, Corrosion of steel rebars and Creep effect in long term.
Cracking phenomena aggravate the process of Carbonation & Chloride attack that leads to the corrosion of reinforcement; thereby reducing the durability of structures.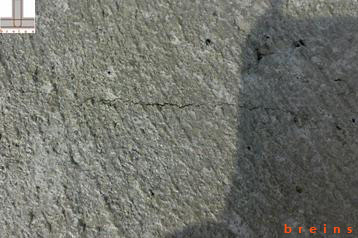 Fig-3 (Crack formed in the fresh concrete surface due to plastic shrinkage)
Damages in the structure not only cause the detrimental effect on its structural health & longevity but also hamper its functional aspects. Leakages of roof/floor slabs cause discomfort to its occupants finally leading to evacuation of such area. Also, dampness in basement walls causes discomfort by rising humidity level of room and damaging its beauty by forming patches. Such defects need repairment, otherwise cause damage to the concrete and ultimately in reinforcing steel.