Protection of Concrete Surface & Durability of Structure
Higher grades of concrete are more prone to cracking than the lower concrete grades. Concrete surfaces do develop invisible micro cracks and voids irrespective of good finished surface. In such "Repair and Rehabilitation" in the form of chemical water proof coating (Fig-7) and painting at the concrete/plastered surface shall be carried out. Also, various forms of cement/chemical grouting in the voids formed in a concrete/brickwork shall be carried out.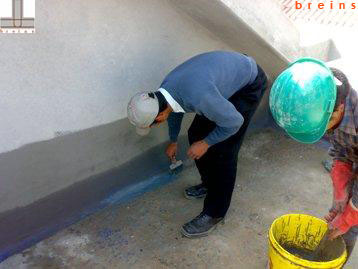 Fig-7 (Application of water proof coating layer at the terrace slab to protect seepage of water inside the slab)
Durability of structures largely depends on repair & rehabilitation works carried out regularly.