Repair and Rehabilitation
Repair and Rehabilitation works carried out on the structure generally refer to the treatment given to the damaged/defective or weakened part of the structure using various techniques. It is usually done so that damages don't propagate further and its original strength and durability is regained.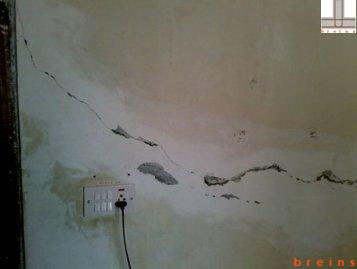 Fig-1 (Cracks formed in brickwall due to excessive settlement of foundation lying along the property line)
Development of various cracks, permeable concrete surfaces, spalling of concrete covers, honey combings, corrosion of steel rebars in the major structural components: columns, beams, slabs & brickwalls are some of the examples that need repair and rehabilitaion works.
Also, structural deficiencies in earthquakes - structures weak in earthquakes also demand special rehabilitation works. However, it has been treated in detail under the Seismic Retrofitting section.
Besides, steel & concrete reinforced structures need regular maintainence works even without development of any sign of damage to safeguard it from the environmental factors. Steel structures demand higher rate of maintainence works in regular manner due to its liability to corrosion. Concrete structures easily develop cracks due to various causes mainly due to its low tensile strength. In such, steel reinforcements in reinforced concrete (RC) structures are susceptible to corrosion that results in reduction in capacity of structural components and ultimately failure; if not treated timely.
Quantity and quality of regular maintainence works effectively enhance the life of structures.